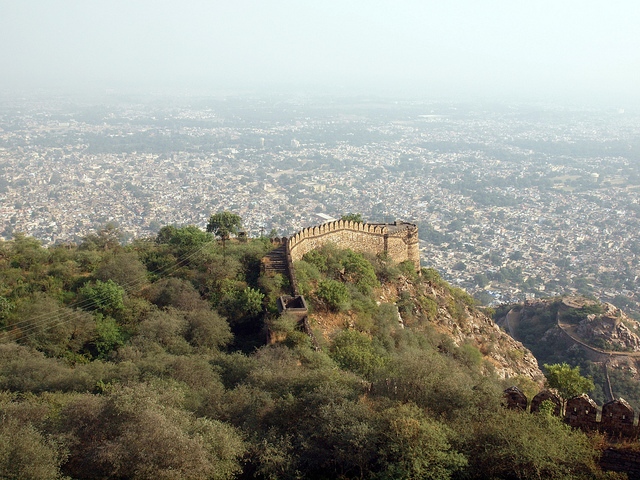 History
The origin of Alwar city goes back to the time of the Mahabharata. It was a part of the ancient kingdom of Matsya and it is said that legendary Pandava brothers had spent some time of their exile there. The ancient state of Alwar was probably the oldest kingdom in the state of Rajasthan. It is said that the city was founded by a member of the Kachh family hailing from the town of Amber. The local Rajput rulers of Alwar had a sweet-bitter relation with the rulers of Delhi in the early medieval period and there was a constant struggle to take control of Alwar. As Alwar was located at a strategic place, the Mughals annexed it and used it to mount military campaigns against the erstwhile Rajput principalities and states. The decline of the Mughal rule saw a brief struggle between Jat and Rajput rulers. Later Pratap Singh, a noble, restored parity in 1775. The descendents of Pratap Singh were great patrons of art and under their rule Alwar became an important cultural center. The later rulers forged an alliance with the British that soon broke off, with the latter taking over Alwar.
Accessibility
Air: The nearest airport to Alwar is the Sanganer Airport located at Jaipur, which is about 162 km from Alwar. Airport to Alwar city in taxi costs about Rs 1500/-. Jaipur airport is connected to metro cities Mumbai and Delhi. Foreign travelers can take connection flights from Delhi and Mumbai.
Rail: Alwar railway station is in the heart of the city. It is well-connected to Jaipur and Delhi. Taxi facilities are available at the station at a rate of about Rs 9 per km (one way).
Road: Alwar is well-connected to all cities in Rajasthan by state owned bus services. Special private buses are available to Alwar from Jaipur. Bus facilities are viable from 5 am to 10 pm in most of the days. Nearest city Bhiwadi to Alwar it cost about Rs 10/-. Delhi is nearly 365 km away and super deluxe buses are available from Delhi to Alwar, costing about Rs 700/-.
Shopping
Alwar is very famous for its exquisite silver jewelry and Rajasthani handicrafts. Among the many rich handicrafts of the city, the main ones are:
Terracotta statues
Carpets
Embroidered leather Mojris or Jutis
Bangles
Pottery
Apart from the shopping items, another specialty of Alwar is its delicious, especially the Palang Torh (the milk cake). A visit to Alwar must include a purchase of this mouth-watering delicacy of Alwar. Read on this Alwar shopping guide to explore more about the shopping attractions of this city.
Alwar shopping destinations have something for each and every person. Among many shopping places in Alwar, Rajasthan, the most famous ones are:
Hope Circus
Bazaza Bazaar
Saraf Bazaar
Malakhers Bazaar
Kedalgang Bazaar
Kalakand Market: What makes the Kalakand market so special is a sweet dish, which tempts everybody with its rich aroma. This sweet is so renowned for its excellent taste that even a street is named after this particular dish. One of the interesting facts about this dish is that it uses meat as one of its ingredients.
Flanked with a large number of small and large sized shops, Kalakand Market provides finest handicrafts and Jewellery items. It is interesting to note that on Tuesdays all the shops in the market would be closed. A large expansion is covered under the area as market, which is popularly called by different names like Sarafa Bazar, Bazaza Bazar, Hope Circus, Kedalgunj Bazar and Malakhera Bazar.
Termperature
Summer 32-45°C, Winter 5-28°C
Best time to visit
September-February