Humayun's Tomb in south Delhi, near Hazrat Nizamuddin station, is one of Delhi's three UNESCO World Heritage Sites. Open daily from sunrise to sunset.
The tomb is located in large, immaculately maintained gardens in the Persian Char Bagh (four corners) style that were thoroughly renovated in 2003 with the Aga Khan's help and are consequently probably the best in Delhi. As you enter the complex, the first major structure on your right is the bulbous, octagonal tomb of Iza Khan, a court noble who built it in his own lifetime, some 20 years before Humayun's tomb. As you pass through the first gate, you will glimpse the dome of the tomb and enter a floral path leading to the second (West) gate, which now acts as the entrance to the giant central garden.
The centerpiece is the eponymous tomb of Humayun, the second Mughal emperor. Built starting in 1562, it was the first major Mughal structure in the city and has been described as a predecessor or prototype of Agra's Taj Mahal. The structures are, indeed, stylistically similar, although Humayun's Tomb is built from red sandstone, not white marble, and was built by a wife grieving for her husband, not the other way around. You can climb up to the second level (the stairs on the west side are very steep, those on the south side less so), and on the south side you will find the entrance into the main crypt where Humayun is buried.
Before you leave, be sure to visit the South Gate, the original royal entrance, from where you can get picture-postcard views without too many tourists in the way. In the southeast corner is the Barber's Tomb, also built in the same style, but regarding which very little is known.
The Mughals brought with them a love for gardens, fountains and water. The first mature example of Mughal architecture in India, Humayun's Tomb was built by the emperor's grieving widow, Haji Begum, in 1565 AD. Constructed with red sandstone and ornamented marks the beginning of a new tradition of ornate style, which culminated in the Taj Mahal of Agra. Designed by the Persian architect, Mirza Ghyas, Humayun's Tomb shows a marked shift from the Persian tradition of using coloured tiles for ornamentation. Located in the midst of a large square garden, screened by high walls, with gateways to the south and west, the tomb is a square tower surmounted by a magnificent marble dome. The dome stands 140 feet from the base of the terrace and is topped with a copper pinnacle. In addition to the remains of Humayun, the complex also houses the grave of many other distinguished members of the Mughal dynasty.
Image Credit: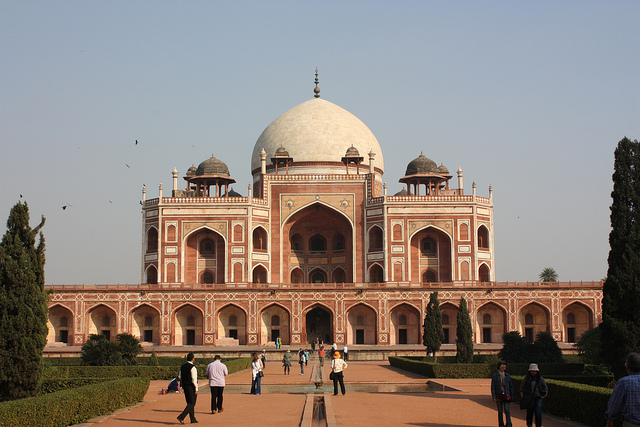 Accessibility:
Nearest Railway Station: Hazrat Nizamuddin Railway Station
Nearest Metro Station: JLN Stadium Metro Station