Pondicherry is the capital city of puducherry union territory . Pondicherry is a peaceful city. Pondicherry is referred by names such as 'Quintessence of French Culture', 'India's Little France' and 'The French Riviera of the East'. This territory was under the French rule for nearly 281 years. Still it has the French flavor in it as one can see by the grand colonial mansions, beautiful boulevards, and placid promenades, spellings on sign boards and buildings, names of roads and public places.
Pondicherry is a well planned and well built town. This is a typical example as one can learn the way the French people gave importance to order and flair. They are known for their rich and quality living. The French too had an eye on the wealth and the fertility of India. Thus the French dream of Indian empire began and got over by establishing their supremacy in Pondicherry. The French constructed many buildings based on their craft and grand architecture. They developed an oval shaped, lovely 'boulevard town' – the French quarter. This French quarter was laid out in a geometric grid pattern with straight roads intersecting at right angles. A boulevard encircled the town and a grand canal, divided it into two sections- one the Tamil side called as Ville Noire or the black town and the other, a European side which was known as Ville Blanche or the white town. The impressive Ville Blanche or white town resembles a typical Medieval French township clotted with fine built monuments, government buildings, majestic mansions, elegant churches and lush green parks.
This unique union territory, Pondicherry comprises of four scattered coastal enclaves- 1.Pondicherry now called as Puducheri, 2. Karaikal which is in Tamilnadu, 3.Yanam in Andhra Pradesh and 4.Mahe in Kerala which lies on the west coast. These places have preserved the French heritage and its cultural aspects which are unique in India. Pondicherry is a combination of cultures.
http://www.flickr.com/photos/ashwinkumar/6066416085/in/set-721576274865…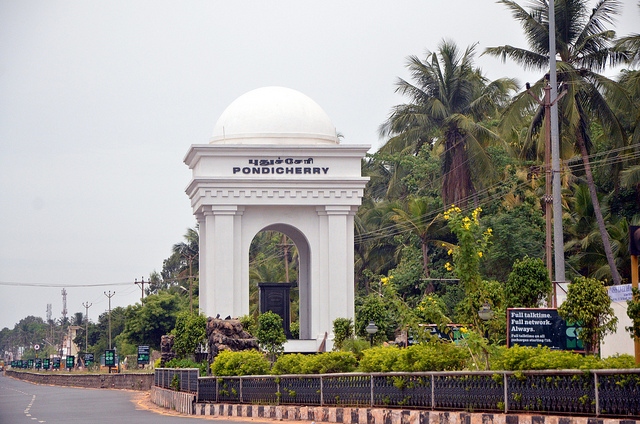 History
The modern History of Pondicherry can be traced back with the reign of the Sultan of Bijapur who acceded the throne after the fall of the Vijayanagar Empire that came to an end in the year 1638. Since the beginning of the 16th century, the influence of the foreign countries gained prominence in Pondicherry.
The 17th century marked the beginning of colonial era in India. The French East India Company set up its trading centre at Pondicherry in 1673 and eventually became the chief French settlement in India. Dutch and British trading companies also wanted trade with India and thus wars raged between these European countries and spilled over into the Indian subcontinent. The Dutch captured Pondicherry in 1693 but returned it to France by the Treaty of Ryswick in 1699. During the Anglo-French wars (1742-1763), Pondicherry changed hands frequently. It was taken again by the British in 1793 amid the Wars of the French Revolution, but once again returned to France in 1814. When the British gained control of the whole of India in the late 1850s, they allowed the French to retain their settlement Pondicherry and thus it remained a part of French India until 1954. It was organized as a Union Territory in 1963.
Accessibility
By Air:Pondicherry does not have any airport with in its boundary, Chennai airport is 135 kms from Pondicherry and flights connect to major cities in India and directly to many other international destinations.
By Rail: Pondicherry is connected by rail to Villupuram (36 kms), which connects to Chennai and Madurai/Trivandrum.
By Road: There is a good road network, originating from National Highway 45, which covers Pondicherry: Chennai (150 km), Bangalore (320 km).
Shopping
The Aurobindo Ashram makes hip leather bags, wallets and sandals with a unique style where patterns are carved out of the leather. They also sell very good handmade paper, incense sticks and batik that comes from their own factory. Other shops also sell similar ware but you must at least check out the Ashram shops.
The exquisite local handicraft items are popular among tourists. Pondicherry being a tax free zone, all items from garments to cars are in great demand here. Infact, Pondicherry is turning out to be a major shopping hub of southern India.
Accommodation
Pondicherry has good accommodation facilities in budget, mid-range and top-end categories. Hotels in the luxury category are Ananda Inn and Pondicherry Ashok. Examples of good hotels in mid-range category are Adhitya, Ajantha, Nadesh and Sooriya.
The Aurobindo Ashram by the sea has some of the best accommodation. The guesthouses are neat, the rates are very reasonable and they are in the best area. No Smoking, No Drinking rules apply strictly and you have to report back by 10:30 at night, but since Pondicherry is anyway a Wee-Willie-Winky town, it shouldn't hurt much. There are some reasonably priced hotels that give you the luxury of air-conditioning, cable TV and in-house bars out of which The Promenade is recommended as is the De L''Orient Hotel which belongs to the Neemrana chain. Budget accommodation is plentiful and good value for money though most have a shared-bath system.
Attractions
Yanam River Cruise
Yanam, in coastal Andhra Pradesh, provides a different route to exhilaration. As you enjoy a sunset cruise down the spectacular Goringa Godavari river which winds through rich mangrove forests.
Termperature
Summer 24-38°C, Winter 20-23°C
Best time to visit
October to April