Mysore, the second largest city in the state of Karnataka, is well known for its history and culture. At an altitude of 770m above sea level, the city of Mysore is at a distance of 140 km from Bangalore. The city is famous for its exquisite temples, pilgrimage centers, surrounding forests, palaces, sandalwood and silk.
According to Hindu mythology, Mysore got its name from the buffalo headed demon, Mahishasura. In the past the place was called Mahishur. It is said that the demon was killed by the Goddess Chamundeshwari and a temple is dedicated to the Goddess on Chamundi Hills.
Mysore, a city of gardens and flowering trees, is a major tourist attraction in the state of Karnataka. Though Mysore is close to the industrial city of Bangalore (139 kms), it is a quiet and placid city. Mysore is a representative of grandeur and royalty of the erstwhile Maharajas. Most of the old buildings in Mysore have a royal touch with vaulting archways and majestic domes. Mysore is very famous for the Dasshera festival that is organized here during September-October, every year. During the festival time, the whole city is filled with light and decorations and on the day of Vijaya Dashmi, he former Maharaja leads a procession through the streets of the city, seated in a golden Howda on an elephant, headed by camels and accompanied by caparisoned elephants, horses, palanquins, silver coaches and standard-bearers with silken banners.
Mysore was the political capital of the Wodeyar dynasty, which ruled the state of Karnataka for some 150 years till the independence of the country from the British. These kings were great patrons of art and culture and Mysore was the cultural capital of the south under the rule of the Wodeyars. The Wodeyars made the Dussehra festival, an event to showcase the rich culture and heritage of the town. Even to this date this celebration of the Dussehra, which is a 10-day celebration during the month of Oct/ Nov is a spectacular event to watch.
Mysore is a city of palaces, gardens, shady avenues and sacred temples and retains some of the charm of the old world with its many institutions that propagate Carnatic Classical music and dance.
Situated in the southern part of the Deccan Plateau, Mysore District is an undulating tableland, covered in parts by granite outcrops and fringed by verdant forests. From ancient times, this district has played a significant role in the history of South India. Mysore District is a popular tourist destination, offering several attractions ranging from the royal splendour of Mysore City and its fabulous Dasara Festival to exquisite temples, pilgrimage centres and scenic spots.
Mysore city is at 770m above sea level and 140 kms from Bangalore. Also known as the City of Palaces, Mysore retains a quaint charm that never fails to enchant.
Mysore today, is a pleasant city with an old world charm; contributed by its broad shady avenues, well laid out gardens, fine buildings and a salubrious climate.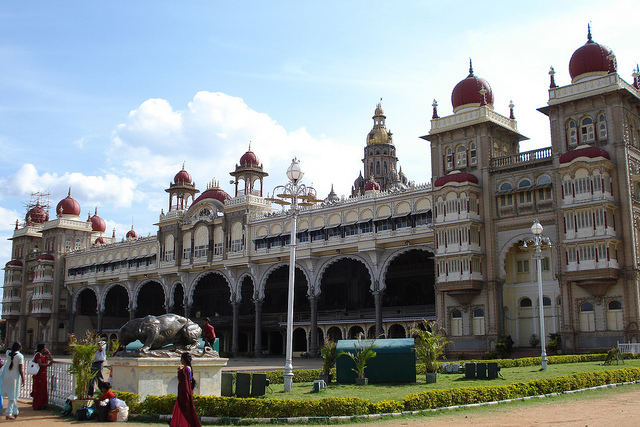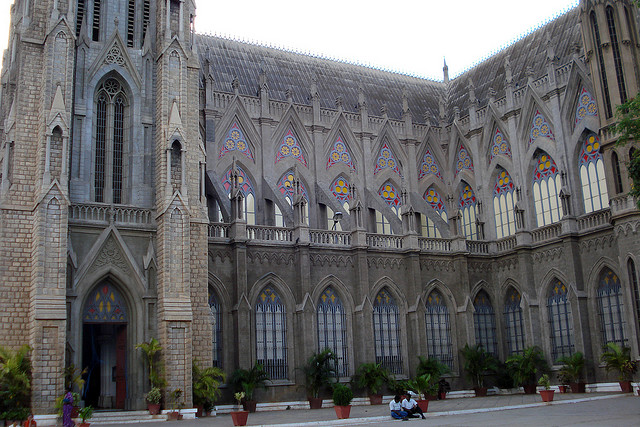 History
According to Hindu mythology, the area around Mysore was known as Mahishūru and was ruled by a demon, Mahishasura. The demon was killed by the Goddess Chamundeshwari, whose temple is situated atop the Chamundi Hills. Mahishūru later became Mahisūru and finally came to be called Maisūru, its present name in the Kannada language. The anglicised form of the name is Mysore. In December 2005, the Government of Karnataka announced its intention to change the English name of the city to Mysuru. This has been approved by the Government of India but the necessary formalities to incorporate the name change are yet to be completed.
Accessibility
Air: Mysore has a small domestic airport which is connected to Bangalore. Bangalore is also the nearest international airport which is at a distance of 140 km away from Mysore. There are regular flights to Bangalore from all the major cities in India. Bangalore is connected to many international cities as well. Taxi services are available from Bangalore to Mysore which costs about Rs 3000.
Rail: Mysore railway station is connected to Bangalore, which is 140 km away. Bangalore is well connected to all the other cities in India. Taxi services are available from Bangalore to Mysore which costs about Rs 3000.
Road: There is an excellent bus service provided by Karnataka State Road Transport Corporation. Vanities of tourist buses are available from Bangalore to Mysore and fare is about Rs 4 to 5 per km.
Shopping
Mysore is famous for carved sandalwood and ivory products, inlay works, silk sarees and incense (agarbatti). Main shopping area in the city is on Sayaji Rao Road. The Cauvery Arts and Crafts Emporium on Sayaji Rao Road is the one of the most popular shops of Mysore. Here you will find the whole range of arts and crafts. There are many other crafts shops along Dhanvantri road, some of the them specialise in ivory chess sets. The best buy includes the carved sandalwood images of Indian deities which retain their scent for years. You can also stroll down Devraj Urs Road, the main shopping hub of Mysore, visit various shops for the famous Mysore silk sarees.
Shopping in Mysore is a fantastic experience. Rich tradition of handloom and handicrafts, colorful local bazaars and warm-hearted people would make your shopping in Mysore a treasured memory. Outstanding souvenirs, delightful gift items or personal possessions - whatever you wish to buy, there are abundant options available in Mysore.
Shopping in Mysore would be a real experience. The warmhearted people and the conventional handloom varieties and the different handicrafts are food for the eye.
Mysore silk saris are hot favorites among Indian women. Silk saris come in vivacious colors and beautiful designs and purchasing one or two saris is traditional among the tourists of Mysore. Numerous sole private shops are scattered around the Devaraja Market that borders the principal Sayyaji Rao road. Government Silk Weaving Factory and the Government Sandal Oil Factory have their retail shops in the city markets.
The most popular item for shopping in Mysore is the silk saris. Silk saris are huge favorites with the Indian women and are believed to reveal the feminine grace most perfectly. Vibrant colors and exquisite motifs adorn the silk saris of Mysore. A piece or two must feature in your shopping cart in Mysore.
Sandal woodcrafts are yet another hot favorite with those who go for shopping in Mysore. Mysore grows one of the finest varieties of fragrant sandal wood from which the ace craftsmen chisel out exquisite artifacts. From arty souvenirs to utilities or objets d'art - the sandalwood crafts may leave you spoilt for choice while shopping in Mysore. You may also choose to buy some authentic sandal wood oil that has phenomenal healing and cosmetic quality and is widely used in Ayurveda.
Several other traditional handicrafts of the state of Karnataka are available in the shops of Mysore. Beautiful woodcarvings, Bidriware, Metalware, Stone Carvings and Mysore paintings may lead you to a shopping spree in Mysore.
Numerous exclusive private shops dot around the Devaraja Market that skirts the main Sayyaji Rao road.
Accommodation
There are a large number of hotels in Mysore. From pompous luxury to great value for money and to cap it all the heritage palaces now opened for tourist accommodation in Mysore- hotels in Mysore offer you a range of choices.
A rich cultural heritage blends perfectly with opulence in the luxury and heritage hotels in Mysore to offer you charming glimpses of glorious past of India. Splendid architecture, idyllic location is complemented by lavish comfort.
Mysore is dotted with plenty of hotels ranging from deluxe to economy class hotels. Being a major tourist centre, Mysore has a number of western-style hotels, the majority of them are equipped with modern facilities and offer pleasant stay to guests. Some of the popular hotels of the city are Lalitha Mahal Palace, Quality Inn Southern Star, Kings Kourt, Best Western Ramanashree, Mayura Hoysala, Mysore Dasprakash, Sandesh The Prince etc.
Here are a few selected hotels in Mysore:
Luxury Hotels in Mysore
Lalitha Mahal Palace Hotel (Heritage)
The Viceroy Hotel
Hotel Ramanashree
Budget Hotels in Mysore
Nalapad Residency
Kings Kourt Hotel
Hotel Southern Star
Attractions
Ayudha Pooja
It is a part of the Dassara celebrations. All vehicles and implements are worshipped on this day. The nine-day celebrations culminate in the grand Dassara procession on Vijayadashami, the day of victory. The Dassara procession begins at the Palace with uniformed soldiers, horses, caparisoned elephants, dancers and floats accompanied by brass hands playing evocative Indian melodies. The Palace Guard and Mysore Lancers march past as graceful folk-dancers twirl and swirl between the floats. A majestic elephant adorned by golden anklets, bell and chains carries the city's patron goddess, Chamundeshwari in a 'howdah'. This extravagant celebration comes to an end with a torchlight parade by the State Police, as fireworks light up the night sky.
Mysore Dussehra : Dussehra is the most popular festival of Mysore city and local people celebrate this festival with great pomp and enthusiasm. Every year during the months of October - November, the Dussehra festival is celebrated in Mysore. Dussehra in Mysore is famous for keeping alive the royal traditions. Lakhs of people from all over the world visit Mysore during Dussehra to see the procession of king, soldiers and elephants. Richly caparisoned elephants, liveried retainers, cavalry, the gaudy and flower-bedecked images of deities, make their way through the streets of Mysore. It's a real extravaganza and you shouldn't miss if you are anywhere in the area at this time of the year.
Things to do
Planet X: The largest family entertainment center in South India and the first such center of Mysore is the Planet X.
It is cuddled at the foot of the beautiful Chamundi Hills and is 5 km away from the Mysore Zoo. It is set over an area of 6 acres. This center has bowling alleys and carting facility. Snooker, billiards with a mini golf course also forms a part of the entertainment center. It also has video games. Besides this, a coffee shop is also located in the center.
The entertainment center is open from 4 pm to 11 pm from Monday through Saturday and from 12 pm to 11 pm on Sundays.
Best time to visit
October to March
Famous For
Sandalwood, Silk