Maravanthe, in the state of Karnataka is a small seaside town along the West Coast Highway stretching alongside the Arabian Sea on one side and the Souparnika river on the other, with the undulating Kodachadri Hills in the background.
Located 50km from Udupi and close to the temple town of Kollur, Marawanthe is starting to attract more tourists over the years.
The beach here is considered to be the best stretch of beach in all of Karnataka. As the town is still fairly untouched by mass tourism, the beaches are pristine and quiet.
As you drive up north along the coastal road to Maravanthe, 50 Kms from Udupi, a surprise awaits you. The highway bordered on either side by the Arabian Sea and Suparnika River, with a backdrop of the Kutachadri Hills, makes the drive an out-of-the-world experience. And at sunset a crimson sky and golden rays reflected both in the sea and the river convert Maravathe into a fairyland of scenic beauty. A drive further up will take you to the Belekal Theertha Falls near Baindur.
http://www.flickr.com/photos/dinesh_valke/502000037/in/photostream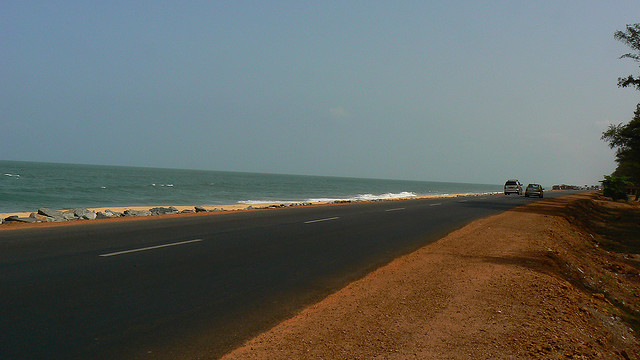 Accessibility
Air: Nearest airport is Mangalore which is at a distance of nearly 110 km away from the Maravanthe beach. Mangalore is well connected to many airports in South India. Taxi facilities are available from Mangalore to Maravanthe, costing about Rs 2000. Bangalore international airport can be used as a connecting airport for foreign travelers.
Rail: Kundapur, which is 18 km away, is the nearest railhead from Maravanthe. Taxi farer from Kundapur to Maravanthe is abour Rs 400. Mangalore is the major railway junction closest to Maravanthe. Mangalore is well connected with all railway stations in India.
Road: Maravanthe beach is well connected with all other cities in and around by Karnataka State Road Transport Corporation buses. Tourist deluxe bus services are available from Marvanthe to Bangalore (450 km), Gokarna (130 km) and Goa (275 km). These buses charge about Rs 3 to Rs 4 per km.
Things to do
Water Sports: The beach at Maravanthe is a famous picnic spot. It is as beautiful as an angel. The waters in the beach are safe for swimming. The vast but gentle tides looks as if it is inviting the visitors with appealing arms outstretched to play with them.
The best time for visiting is from October to January. This beach is well known for its water sports. Sea riding and underwater sports are the main attractions. The seawater is safe for swimming. There is enough scope and reliable facilities for scuba diving and snorkeling. Spicy sea food is the food specialty found in this beach.
Best time to visit
October and February