Kabini is one of the most popular wildlife destinations in Karnataka, probably because of its easy accessibility, lush green landscape surrounding a large picturesque lake, and fantastic sightihgs of large herds of elephants. It is 80km away from Mysore and 205km from Bangalore, and comprises the south-eastern part of Nagarhole National Park. Situated on the banks of River Kabini, this forest reserve is spread over 55 acres of forestland and water bodies.
The forest reserve of Kabini is spread over an area of approximately 55 acres of lush green forest land. It comprises of the south-eastern part of Nagarhole National Park and lies on the serene quiet backwaters of the River Kabini, a tributary of River Cauvery. The Kabini River runs between the Bandipur National park and Nagarhole National Park at the foothills of the Western Ghats in Southern India. The Bisalwadi Kere Lake is located within the forest reserve.
Kabini was once known for the mass elephant trapping operations called "Kheda", but today the reserve is believed to have the largest congregation of some 6000 Asiatic elephants. The need to conserve the elephants has gained importance as the elephants modify the habitat by converting savannah and woodlands to grasslands thus improving the landscape. They even indirectly provide water for other mammals by digging water holes in dry river beds and depressions created by their footprints.
Kabini used to be the private hunting lodge of Maharaja of Mysore. Later it was called the Viceregal Lodge and became a popular shikar or hunting area for the British viceroys and the Indian royalty.
Today the forest reserve is considered to be one of the best wildlife sanctuaries in India and is known for its abundant, varied and spectacular animal and bird life. The Kabini wildlife resort which is attached to the Forest reserve has also been rated among the top five in the world by 'Tatler's Travel', a prestigious British Travel Magazine.
Once a private hunting lodge of the Maharaja of Mysore, Kabini was a popular shikar hotspot for British viceroys and Indian royalty. Now it is considered to be one of the best wildlife spotthing areas in karnataka, famous for its spectacular wildlife and bird life.
At the southeastern end of Nagarhole, by the backwaters of the Kabini River, 69 km from Mysore.
http://www.flickr.com/photos/ashwinkumar/6241926442/in/set-721576277645…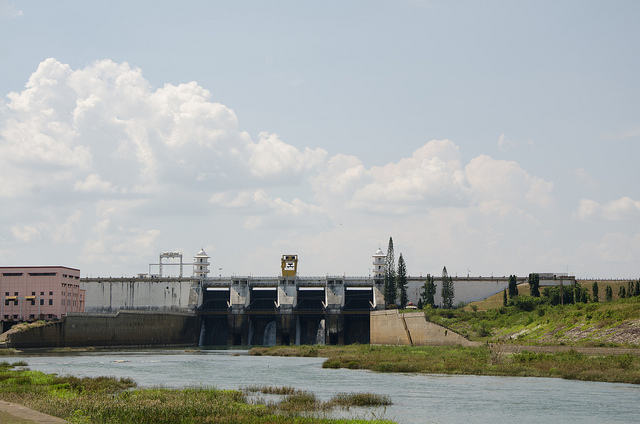 History
Once there was a Maharaja in Mysore who loved the outdoors. His kingdom eventually spread over beautiful countryside, jungles teeming with wildlife. The flowing river kept everything lush and green and flourishing. And he loved the environs so much that he built a hunting lodge by the banks of Kabini, a tributary of the Kaveri. His guests and travelers from all over the world stayed there.
Thus, Kabini became quite popular. It also became the headquarters of the world famous kheddah (the corralling of wild elephants for domestication in the Royal stables and for agriculture, held every three or four years by the Maharaja and his descendants till 1971).
Even today the lush forest around Kabini remains unspoilt. People still come from all over the world to enjoy its richness and diversity of its flora and fauna.
Accessibility
Air: Bangalore is the nearest Airport, which is 208 km away from Kabini. Cab costs about Rs 4000 from Bangalore Airport to Kabini. Bangalore airport is well connected to almost all airports in India. International flights to major foreign cities are also operated from Bangalore.
Rail: Nearest railway station is Mysore, which is about 80 km away from Kabini. Mysore is well connected with other cities in India through Bangalore Majestic Terminal. Mysore railway station to Kabini costs about Rs 1500 by taxi car.
Road: Kabini is well connected by KSRTC buses to all neighboring cities including Bangalore. Bangalore and Mysore are connected to Kabini by many deluxe buses. Bangalore to Kabini costs about Rs 300 – Rs 400 by state bus and Rs 600 - Rs 800 by private deluxe A/C buses. Mysore - Kabini costs about Rs 125 for state bus and Rs 300 by deluxe bus.
Things to do
Boating: Apart from enjoying wildlife safaris, one can also choose to take a cruise down the Kabini river. One can see fabulous sceneries, feasting the eyes for a lifetime memories with the flora and fauna around the lusting greeneries, atop of the boat.
On the way through the dense woodlands, in a boat cruise, glimpses of animals like leopard, gaurs, antelopes, crocodiles, tigers, cobras and pythons and a herd of wild elephants moving leisurely or a vociferous leopards, moving behind the dense undulated terrains of Kabini forests are abundantly possible.
Kabini offers, besides the animals, an interesting view of a rich variety of plant life.
Elephant Camp
To reach this elephant camp at Balle, you must drive via Karapur and it would take less than half an hour. After taking a left on from Mysore-Mananthavady Road, Balle Camp can be reached in 15-20 minutes. Here entry is free and timings are from 7am to 6pm. In April and May, this place is closed for tourists. There is something special about this place and what exactly is that, would be clear when you will see these huge creatures being fed their snack. The sight of elephants standing in a row, resting their trunks on wooden poles uncomplainingly and waiting for their turn to get the snack is amusing.
Elephant Safari: Elephant safari helps the visitor to travel through such intricate terrains where even jeeps cannot venture. One can take himself back to the old golden era, when only the Kings used to ride on these gigantic animals, since nothing can even match up to with the dignity of the Pachyderm.
Any tourist reaches this destination can proudly sit over the cushion (seat) on the top of the animal which moves slowly and steadily and fulfill their adventurous dream of an Elephant Safari. If any animal rules Kabini, it is the elephant. The forest reserve has the single largest congregation of Asiatic elephants.
Elephant safari is offered in Sunkadakattee. Here one can enjoy the thrill of moving around the thick forests on tamed elephants.
Jungle Safari: Eco friendly tourists and environmentalists love to travel around the dense and populated forested regions of Kabini, for its diverse topography and wide-ranging collection of animal and plant life. Go on a jeep safari for wildlife sighting and have a truly mingling of wild life for a unique experience. Nature walks are nice options to loose oneself in the exuberant environs at Kabini.
Tourists and nature lovers pour into the place in good numbers to enjoy the sights and spend some quality time here. The Kabini is adorned with the lush vegetation with one endless streak of verdant green. Various tourist operators can also arrange for a nature walk which will be exciting and unforgettable. This area is awesome for Jungle safari as the climate is mostly warm and temperate and the winter is very short.
District
Wayanad District
Termperature
Summer 23-37°C, Winter 13-20°C
Best time to visit
November and June
Famous For
Naturally beautiful landscape, wildlife, herds of elephants