Dandeli city is located on the banks of River Kali in Uttara Kannada District and 458 kms from Bangalore. It is one of the last patches of pristine forest left in the Western Ghats. The location is surrounded by dense deciduous forests, which is one of the richest wildlife habitats in the world.
It is home to several valuable trees, animals and reptile species and over 450 species of birds. This is the only place in Asia where the black panther has been tracked.
Dandeli is home to Gowli nomadic shepherds, the Lambanis and Negroid Siddis.
http://www.flickr.com/photos/toufeeq/262730379/in/photostream/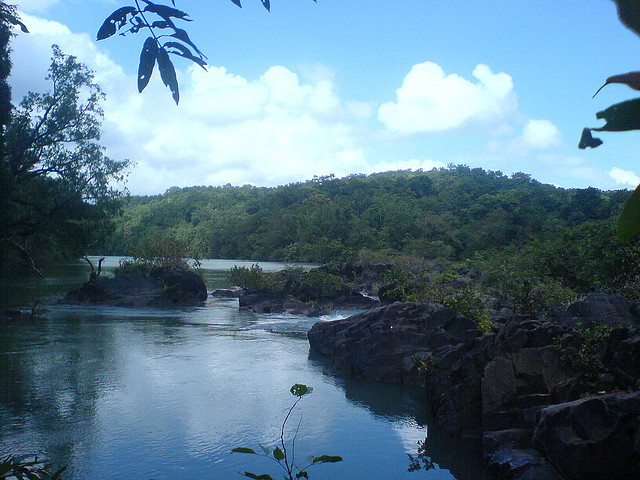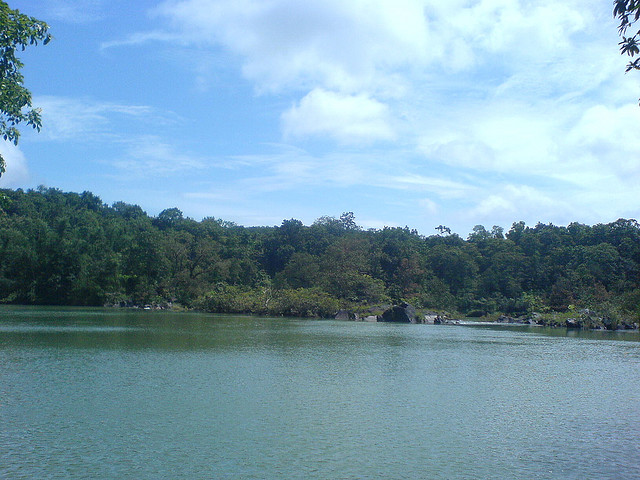 Accessibility
Air: The nearest airport to Dandeli is Belgaum, which is about 90 km away. Belgaum is connected to Mumbai and Bangalore by domestic flights. From Belgaum to Dandeli, taxi charge is about Rs 1300. Bangalore is the nearest International Airport, from where it requires about 12 hours travel (about 481 km) to reach Dandeli by Taxi/ buses.
Rail: Nearest railhead is Alnavar, which is 35 km away from Dandeli. Alnavar is well connected to Belgaum, Bnagalore and Hubli.
Road: State owned bus services are connecting Dandeli with Alnavar (35 km), Dharwad (55 km), Hubli (72 km) and Belgaum (90 km). Tourist buses are available from Bangalore to Dandeli, which covers about 480 km and cost about Rs 1500.
Accommodation
The Kali River Resort is a hot favourite. It has 11 tents facing the Kali river as well as rooms and dormitories. You can also stay at the Bison River Resort, State Guest House and Hornbill Resort that has tree houses and tents.
Things to do
Kulgi Nature Camp: This is an ideal place to lodge in while you are at the Dandeli Wildlife Sanctuary. The camp is located at a distance of about 12 km from the Dandeli bus stand in Kulgi village. This is a very popular place with the tourists for the tented accommodation facilities that it offers. Located in the middle of the forests of Dandeli, it has about twelve tents named after different birds. It is spread over a large area and makes for a comfortable stay while you are exploring the sanctuary.
Tourists need to contact the Dandeli wildlife division of Dandeli to make arrangements for accommodation during their stay in the place.
Rafting: Dandeli, located by the Kali River makes for a great rafting location. There is almost 9-14 km of rafting facility available with class 3 rapids continuing for 2-3 hours or more.
The rapids are named Adi's beard, The stitch, Snuggler's trove, Stanley's squeeze and many more. Each of the rapids have there own features. Tourists are taken upstream, put in an inflatable boat and then are pushed down the river. They are accompanied by trained guides who even give them lessons in rafting.
There are many tour operators who organize white water rafting for the tourists and they have excellent facilities.
Termperature
Summer 22-40°C, Winter 10-32°C
Best time to visit
Throughout the year