Bangalore, the bustling capital city of Karnataka, has historically been known as the "Garden City" because of its pleasant climate and moderate temperature and a good number of gardens, parks and natural lakes. After the IT boom Bangalore came to be described as the "Silicon Valley" of Asia with a number of industries like aerospace, telecommunications, defence organistaions etc setting up their base here. Bangalore is the anglicised version of Kannada language and the official name of the city is Bengaluru. There is historical evidence showing that the city was referred to as Bengaluru in 9th century. When the British came to India the name got anglicized and the city came to be known as Bangalore. Today with a growing population of young professionals the city has acquired a vibrant and cosmopolitan feel to it. In this regard, the city has acquired a new name - "Pub City".
Some of the main tourist attractions in Banagalore are Bangalore Fort and Palace, Tipu Sultan's Palace and Lal Bagh Botanical Gardens.
Bangalore, also known as Bengaluru is the capital of state of Karnataka in South India. Bangalore lies at 949m above sea level and enjoys a salubrious climate throughout the year. Bangalore is also known as the IT hub of India, being one of India's fastest growing cities. Bangalore is home to a lot of major international IT companies, public sector companies, defense organizations, and reputed educational and research organizations. There are a number of places in Bangalore that are worth a visit including Vidhan Soudha, Cubbon Park, Ulsoor Lake Etc. Bangalore is also famous for its amazing nightlife with some of most happening pubs and discotheques in the city. For local Bangalore population, there are numerous weekend getaways around Bangalore. Bangalore is also a perfect hub for all the major tourist destinations in South India.
Bangalore is among the most developed cities in India. Situated in the southern part of the state, Bangalore is the capital city of Karnataka. The city is at a height of around 3113 feet above sea level. The city with many exquisite gardens and parks has acquired the name 'Garden City'. Bangalore, with the number of multi national companies and numerous IT firms, has also been termed the Silicon Valley. It has become one of the most favored places for business travelers. What attract people most to Bangalore is the fascinatingly pleasant weather conditions. And with the green belt running throughout the city, it remains pleasing throughout the year. The attractions in Bangalore are more predominantly monumental ones. The magnificent city of Mysore just few hours drive from here turns out to be a great excursion from Bangalore.
This city is also termed as the 'Garden City of India' and 'Silicon Valley of India'. Located in the southern part of India, Bangalore is the capital city of Karnataka and is therefore a hub for commercial and business activities.
Bangalore is a city full of shopping malls and markets. And with the number of places from where you can shop for, there is no better place than Bangalore to go for a shopping extravaganza. From branded showrooms to old and traditional shopping bazaars, Bangalore is the best starting place.
Image Credit: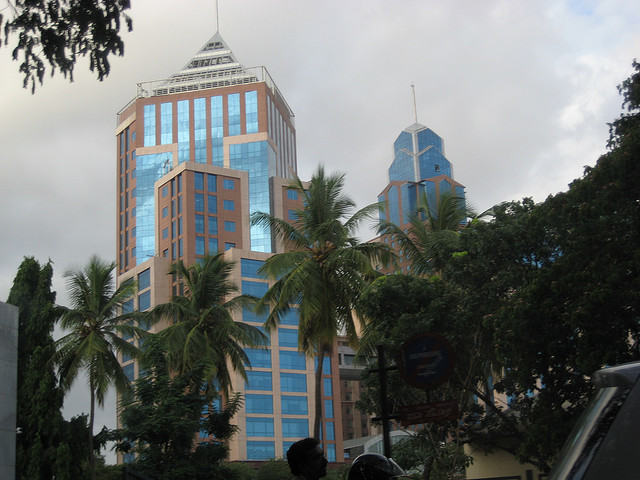 History
The name Bengaluru derived from the Kannada word 'bhenda kaale ooru' meaning 'town of baked beans'. Legend says that the name came into being because of a 10th century incident when a local king, Vira Ballala, turned up hungry at the doorstep of an old lady and she fed boiled beans. Out of gratitude to the old lady, the king named the place after food she generously fed him. Some historians however propose that the name simply originates from the word "Benga" or "Ven-kai" tree. The name Bengaluru is also found mentioned in a 9th century inscription regarding Ganga.
In the 16th century a local chieftain and the founder of modern day Bangalore, Kempe Gowda, constructed a mud wall around the city (in 1537). The town was then named " GalluBhoomi" meaning the "Land of Heroes". Later, under the rule of Hyder Ali and then his son, Tipu Sultan, it became an important fortified city with beautiful gardens. When the British took over Mysore State from Tipu Sultan, they shifted the capital to Bangalore from Mysore. Bangalore remains the capital of the state that is now known as Karnataka.
The city progressed rapidly under the British who established civic amenities, constructed grand buildings and parks. In 1881, the Wodeyars were given control of the city.
Accessibility
Air: Bangalore International Airport is 40 km away from the heart of the city, Majestic. It costs about Rs 300 by auto rickshaw and Rs 600 by taxi. Pre paid taxi facilities are available in Airport. Bangalore airport is well connected to almost all airports in India. International flights to major foreign cities are also operated from Bangalore.
Rail: Bangalore Majestic, Bangalore Cantonment (8 km to Majestic) and Yeshwanthpur (10 km away from Majestic) are the three main stations in Bangalore. Bangalore Majestic is connected to all major cities in India.
Road: KSRTC buses connect all cities in the state to Bangalore. Many super deluxe bus services are available from Bangalore to Hyderabad, Cochin, Trivandrum, Chennai, Mumbai, Goa and Mysore.
Shopping
For shopper's Bangalore is a paradise. Traditional buys of Bangalore include silks, jewellery, sandalwood, agarbatties, antiques etc. Bangalore has a number of new shopping malls and other old markets as well. You will find outlets of all the renowned brands in the shopping malls of Bangalore. For traditional handicrafts Bangalore has a Arts and Crafts Emporim too. Visit the Kaveri Arts and Crafts Emporium which stocks a huge range of superb handcrafted tables, carvings, ivory ware, jewellery, ceramics, carpets and agarbatties.
Shopping in Bangalore can be a fascinating experience because Bangalore has something to offer every kind of customer. Whether you are looking for Kancheepuram Silk or Swarovski crystal, chances are you will find it in Bangalore.
Bangalore is famous for the shopping malls, which have some of the finest and biggest showrooms in India.
Commercial Street is one of the busiest and crowded shopping areas in Bangalore. The shops are filled with shoes, jewelry, art decors, stationery, novelties, and travel kits and sports goods. The South Parade of the British Period, now known as the MG Road still retains the colonial charm even after lot of development and advancement has been made.
This is the place for shopping for electronic equipments, books and magazines, silk saris, textiles, antiques and photography equipments. Brigade Road, which is adjacent to MG Road is famous for electronic items such as televisions, refrigerators, music systems, computers, and washing machines and government emporiums where one can find brassware, wooden furniture, antique jewelry, ethnic printed fabrics, saris and decorative items. One should check out the Majestic area, where one can come away with really good buys and bargains. There are also a couple of markets called the Hong Kong Market, Burma Bazaar with small shops selling imported perfumes, accessories and electronic goods.
Apart form those shopping areas, Bangalore has lots of other commercial areas famous in their own way for the products they have on offer. Richard Square in Russell Market, for instance, is known for cutlery, crockery and household items. Chickpet is famous for its Silk Sarees, Silver and Gold jewelers and Textiles and Arcot Srinivaschari Street for metal items like brass, silver and copperware.
On B.V.K. Iyengar Road one can find wood products, plywood, paper and electrical goods. Avenue Road is known for its stationery, stainless steel ware and silver jewellery. For upmarket shops with an air-conditioned ambience one can go to KempFort, Shopper's Stop or some of the new shopping malls in the city like Forum and Bangalore Central.
Commercial Street: Commercial Street in Bangalore is one of the main shopping complexes in India. The whole of the street is lit by a covering of lights that are threaded from lamppost to lamppost. The energy of the people shopping here is high and one can get a good sense of the chaos that is prevalent there.
The Commercial Street is one of the busiest areas in Bangalore. It is placed between Shivaji Nagar and Kamaraj Road. Garments, hosiery and textile stores form the major part of the shops. In addition there are shops selling shoes, art materials, jewellery, sport goods and other general goods.
Accommodation
Bangalore, the IT Hub of India, also known as the Silicon Valley of India has hotels with international standards. Bangalore hotels range from five-star hotels and luxury resorts to budget hotels.
Bangalore hotels offer well-equipped business centers and meeting rooms for the business traveler. For the economy and leisure tourist, there are hotels near the main shopping area, MG Road which offer a comfortable stay as well as opportunities for shopping in Bangalore. There are also tourist attractions in Bangalore, which are accessible to the tourist.
One of the frequented destinations of India, Bangalore is dotted with large number of hotels. Ranging from five star to budget hotels, Bangalore hotels provide a comfortable stay to guests. All the deluxe and luxury hotels are well-equipped with contemporary facilities, while you stay in Bangalore hotels you feel yourself at home. Important hotels of Bangalore include Hotel Oberoi, Leela Palace Kempinski, ITC Hotel Windsor Sheraton & Towers, Taj West End, The Park, Taj Residency, Le Meridien, Gateway Hotel, The Central Park, The Richmond Hotel, The Chancery etc.
Among the prominent hotels in Bangalore are:
FIVE STAR DELUXE HOTELS
The Oberoi
The Taj West End Hotel
FIVE STAR HOTELS
The Leela Palace Kempinski
Le Meridien
Taj Residency
BUDGET HOTELS
Hotel Basant Residency
Hotel Ramanshree
Nilgiris Nest
Kamat Yatrinivas
FIRST CLASS HOTELS
Hotel Ashok
St. Mark's Hotel
Central Park
There are numerous accommodation options available for the tourists throughout the city. Some of them are Ista Hotel, Ballal Residency, Casa Piccola, Cottage, Melange, Jayamahal Palace.
Termperature
Summer 23-33°C, Winter 12-23°C
Best time to visit
October to March