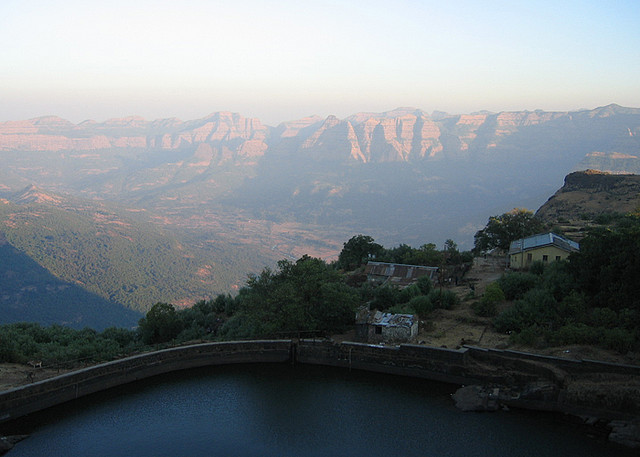 History:
The town of Raigad was earlier the site of the fortress of Rairi belonging to the royal house of Mores, a junior dynasty that had descended from the Maurya imperial dynasty. Shivaji Maharaj had seized this site after defeating Chandar Rao More in 1656 and renovated and expanded the fortress of Rairi and renmamed it as "Raigad or the King's Fort" to commemorate his victoty over the Mores dynasty. Thus he built his capuital here in the 17th century and crowned himself at the fort on 6th June 1674. Theafter he was called Chatrapati Shivaji Maharaj.
Shivaji Maharaj died here on 3rd April 1680 and even after 6 years of his death, Raigad continued to remain a Maratha stronghold with its broad gates and magnificent monuments.
In 1818 when the Marathas were defeated, the British took over control of the Raigad Fort which became their stronghold in this region.
Accessibility:
Air: Mumbai Chatrapati Shivaji International airport, which is 140 km away from Raigad, is the nearest airport. All the major airlines have service from Mumbai to all major cities in India and many cities abroad including Singapore, Hong Kong, Colombo and gulf countries. Taxis are available from Mumbai to Raigad and costs about Rs 3000.
Rail: Vir Dasgaon railway station is the nearest railhead to Raigad. This station is connected to Mumbai and Pune with regular trains. Taxi services are available from Vir Dasgaon to Raigad.
Road: State transport offer bus regular and frequent services from Mumbai and Pune to Raigad. Raigad is well connected to all neighboring cities by the public transport buses, including Kolhapur (250 km), Pune (150 km), Mumbai (140 km) and Mahabaleshwar (75 km). Public bus charge is less than Rs 2 per km.
Attractions:
Raigad Ropeway
The Raigad Ropeway is very convenient for those who cannot climb the 1450 steps and takes one from the foot of the hills to the top of the fort. The Ropeway was built by Jog Engineering limited who started the construction in November 1994 and commenced it in April 1996.
The Raigad Ropeway is a sightseeing package which includes the journey form the lower station to the top of the fort, a tour of the entire Raigad fort with experinced guides, visit to the Raigad Museum and a film show on Raigad.
Things to do:
Rock Climbing: Raigad holds so many interesting routes to reach there, varying from the comparatively simple ones to the exigent. From Pachad, Raigad is an easy destination, but those who want to deviate from the ordinary path can opt the adventure-filled route either from Mahabaleshwar or Pune.
Rock climbing in Raigad region is a worth attempting adventure. Scattered evergreen forests and fast wind makes the surroundings of this area very cool even during summers.
Raigad provides excellent place of rock climbing like Torana Fort, Lingana Fort, Nijampur – Fort, Birwadi - Raigad Trek and Mangad – Raigad trek.
Situated in the lap of the Sahyadri mountain range, Raigad is a center of enlivening peaks and vibrant ancient forts that are quite thrilling for climbers.
Location:
located off NH-17 in Raigad District in Maharastra.