Aligarh is mostly known as a university town where the famous Aligarh Muslim University is located. It is popularly known as the 'Mecca of Education'. It is must for both casual visitors as well as researchers who want to trace origin of Nationalist movement in India. The city is an important center for Brass Hardware and sculptures as well.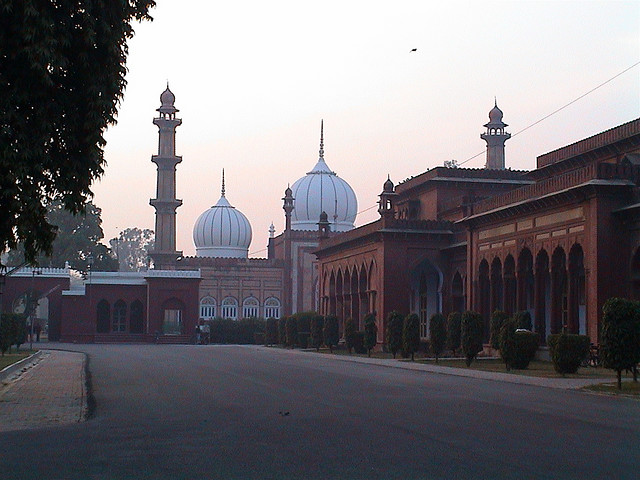 History:
It is known till the 18th century by the earlier name of Kol. After the British occupation of Aligarh in September 1803, the present Aligarh district was formed in 1804
Both Akbar and Jahangir visited Kol on hunting expeditions. Jahangir clearly mentions the forest of Kol, where he killed wolves. From the study of the place-names of the district, it appears that the district was once fairly well covered by forest, thickets and grooves. The early history of the district, indeed down the 12th century AD is obscure.
Kol or Koil, was the earliest name of the city and Aligarh was the name of the fort nearby. Kol covered not only the city but the entire district, though its geographical limits kept changing from time to time. The origin of the name of Kol is obscure. In some ancient texts, Kol has been referred to in the sense of a tribe or Caste, name of a place or mountain and name of a sage or demon. During the time of Ibrahim Lodhi, when Muhammad, son of Umar was the governor of Kol, he built a fort at Kol and named the city after his own name as Muhammadgarh in 1524-25; and Sabit khan who was the governor of this region during the time of Farrukh Siyar and Muhammad Shah, rebuilt the fort and named the town after his own name Sabitgarh. After the occupation of Kol by the Jats in 1775, it was re-named Ramgarh and finally, when a Shia commander, Najaf khan, captures Kol, he gave it its present name of Aligarh. Aligarh Fort (also called Aligarh Qila), as it stands today, was built by French engineers under the control of French officers Benoît de Boigne and Perron.
Accessibility:
Air: The nearest airport is New Delhi that is 130 odd kilometers from downtown Aligarh. New Delhi has both international as well as domestic airport that is well connected to a range of cities in India and world. Several public as well as private carriers offer their service to and from Delhi. From Delhi, one can either hire a cab or take any train to Aligarh.
Rail: Aligarh falls on the busy Delhi-Kolkata Grand Chord line and is therefore well connected to most of the destinations in Uttar Pradesh and India. The main railway station in Aligarh is Aligarh Junction. The junction is well connected to cities like New Delhi, Agra, Kanpur, Lucknow, Benaras, Jaipur, Kolkata and Mumbai through a cluster of super fast and express trains.
Road: Aligarh is well connected to cities in Uttar Pradesh and around through a network of National and State Highways. The city has regular buses to destinations like Jaipur, Agra, Mathura, Ghaziabad, New Delhi, Lucknow and Varanasi. Both Uttar Pradesh State Road Transport Corporation as well as private parties plies buses to and from the city.
Shopping:
Aligarh is one of the most famous commercial centers in North India. Although the city has become synonymous to locks, Aligarh has much more to offer to its visitors. Nevertheless, locks manufacturing and export remains the lifeline of the city.
The lock industry of Aligarh is very old and traces its history to the era of Moguls. The industry got a major boost in the times of British rule. It were British who streamlined the lock industry that was once very unorganized. The city produces numerous types, kinds and size of locks that can be bought. The major market places in Aligarh are Railway Road Market and Center Point Market.
Another famous products that can be bought in Aligarh are Brasses. Brass Sculptures are hot among the tourists visiting Aligarh. These sculptures are finely cast and come in all kind of shape and size. Do buy a few suiting your luggage. Aligarh is also famous for its 'Aligarh Pajamas'. These dress materials are of fine qualities and have no parallels in India at all.